Product details -CA-CMCM-32CU-0005-BK
The USB Type C 3.1 Generation 2 cable is still one of the latest USB standards available on the market. It allows countless data transfer speeds of up to 10Gbps, 2-times faster than USB 3.0 and more than 20 times faster than USB 2.0!
The latest standard also supports video transmission with a maximum resolution of 4K and a refresh rate of 60Hz!
The cable has support for Quick Charge 4.0 Technology, as well as Power Delivery 3.0 which allows you to power a variety of household appliances - with a maximum charging power of up to 100W!
Specifications:
Connectors:

USB type C male
USB type C male

USB specification: 3.1 generation 2
Transfer speeds of up to 10 Gb/s
Backwards compatible with USB 3.1, 3.0, 2.0, 1.1
Chipset: HUSB332
Triple shielding
Support for Quick Charge Technology version 4.0
Support for Power Delivery Technology 100W (20V / 5A)
Maximum supported resolution: 3980 x 2160 @ 60Hz
Wire gauge: 32 AWG
Gold-plated contacts
Braiding: PVC
Colour: black
Length: 0.5 m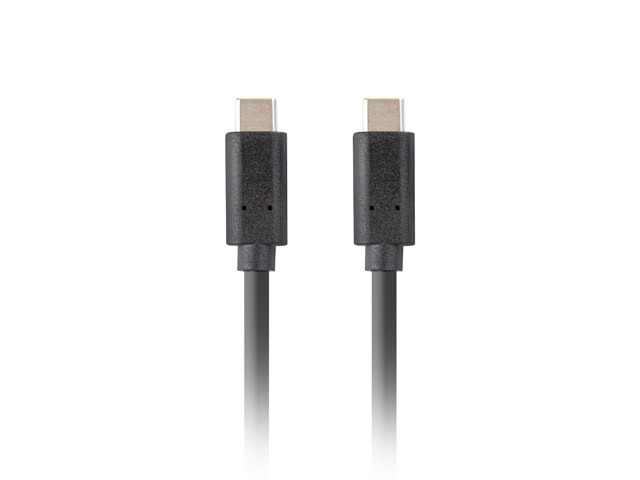 | | |
| --- | --- |
| Connectors | USB Type-C |
| Cable length | 50cm |
| Wire braid | Plastic shield |
| Colour | Black |
| Max video resolution | 4096 x 2160px |
| Material | Copper (CU) |
| Chipset | HUSB332 |
| Assembly of the connector | Gold-plated |
| Shielding type | Triple shielding |
| AWG | 32 + 24 |
| Angle connector | No |
| Transmission speed | 10 Gb/s |
| USB Version | 3.1 Gen 2 |
| Maximum charging power | 100W |